ZERO THC*
The perfect wellness pack from sunup to sundown. Calm CBD Oil for the day and Dream Nighttime Gummies for dreamy nights.
Includes:
1 Calm CBD Oil, 1 fl oz.
1 Dream Nighttime Gummies, 30 gummies
Free Shipping
Due to packaging delays impacting the USA, both flavors of our Dream gummies will be temporarily featured in a different bottle than is depicted on our site. Rest assured, the product has not changed.
*May contain trace amounts <0.05% THC
Customer Reviews
11/18/2021
Rachel U.

US
Finally kicked the Tylenol pm habit
mandara dream has allowed me to stop taking Tylenol pm as a sleep aid. Much more restful sleep
12/02/2020
Rebecca R.

US
Really helps with sleeping
The Calm oil has a great flavor. I've been taking a gummie every night about 30-40 minutes prior to bedtime, and I've been falling asleep easily and sleeping through the night, both of which are something I struggle with at times. The flavors are delicious, I've tried them both. I do wish they would use monk fruit instead of sugar in the gummies especially since the Calm oil uses it and is sugar-free. I also would like to see a non-GMO corn syrup and maltodextrin used, if not organic. But that being said, their ingredients are still the cleanest and purest on the market that I have found.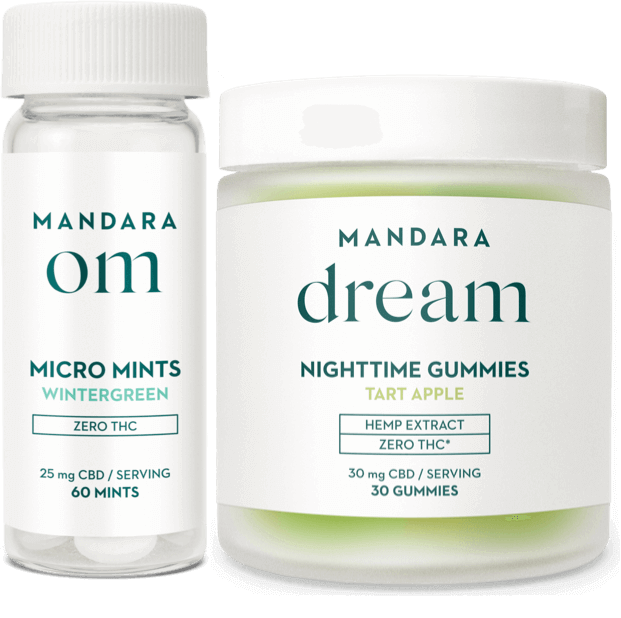 Dawn to Dusk Bundle
Add these best-sellers to your routine.
WARNING: Not to be used during pregnancy or lactation. If you have a medical condition or take pharmaceutical drugs, please consult your physician before use. Keep out of reach from children.
*These statements have not been evaluated by the Food and Drug Administration.
This product is not intended to diagnose, treat, cure, or prevent any disease.