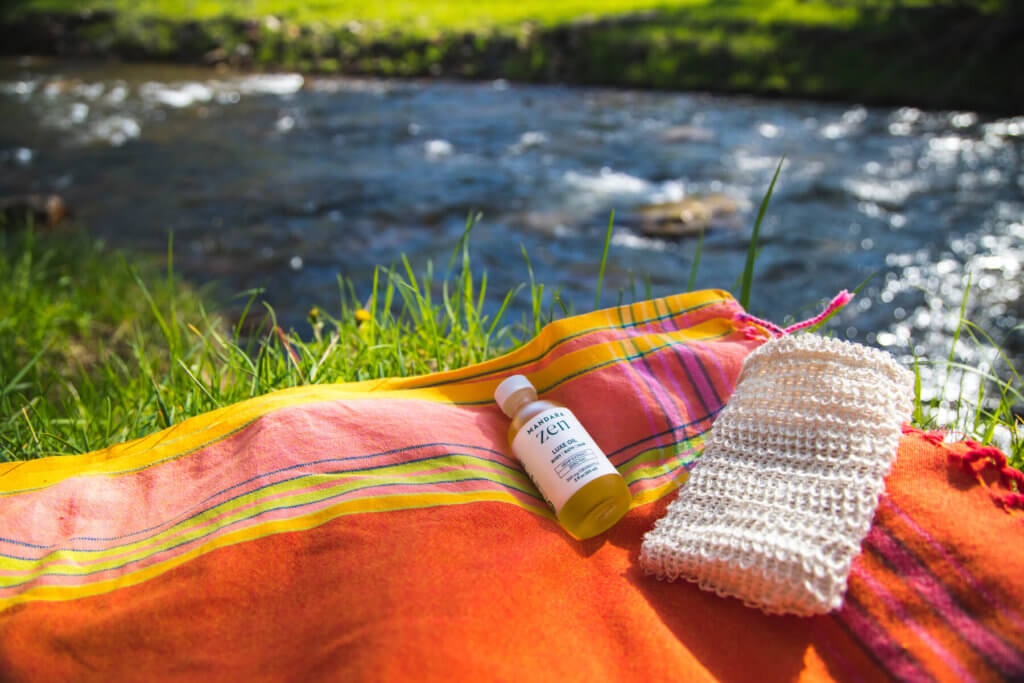 CBD can make your time in the great outdoors even better. Here's how weekend warrior Whitney James uses Mandara as a recovery tool to optimize her time in the mountains.
Here in Colorado, if you don't put your own body through the wringer, the elements will do it for you. As an active 30-something who spends most of my time outside, I'm starting to see and feel some of the effects of such a physically demanding lifestyle. I pound my joints to death riding down rocky singletrack on my mountain bike and ask my muscles to perform after nights spent around the campfire—seven percent IPA in hand, followed by a chilly sleep on the ground. And that's just in the summer! When the snowflakes start flying, I'm out skiing. Not downhill like normal people, but uphill. I'm a cross-country skier—an awkward pursuit in which I regularly push my lungs and legs to the max, eager to reap that endorphin rush that follows a big climb. Combine these year-round adventures with Colorado's thin air and lack of humidity, and I'm left needing a spa day, complete with deep tissue massage, nearly every week. Enter the power of Mandara.
I've been testing out Mandara's CBD offerings for about eight months now, and they fill a void in my proverbial wellness toolkit. Like any amateur athlete, I already have hydration drink mixes and protein powder for pre- and post-outdoor activities, but as we all know, recovery is key to sustaining any level of healthy activity. Mandara to the rescue! Their newest product,  Zen Luxe Oil, melts away tired muscles when added to a warm bath or applied with a little self-massage, and their Dream CBD Gummies support a restful night's sleep.
Here's an example of how I integrate Mandara into my outdoor lifestyle in the best of ways during a typical summer weekend spent camping:
7:00 a.m.: Wake up and take my Cinnamon Calm with my morning coffee before meditating for 10 minutes alongside the river.
9:15 a.m.: Knock out a loop on my favorite mountain bike trail: 2,249 feet of climbing over 14 miles, with a high point of over 11,000 feet elevation.
12:30 p.m.: Wash the dust off my legs in the glacially-fed creek post ride, and apply Zen body oil for all-natural moisture and support. (Option to use the clever sisal carrying pouch to get rid of stubborn dirt and bug spray!)
4:00 p.m.: Haul my 30-pound stand-up paddleboard up a steep trail to a remote mountain lake. Spend 20 minutes inflating it by hand, then paddle and float the late afternoon away.
10:15 p.m.: Before bed, take a Dream Gummy with just the right amount of melatonin to lull me to sleep for another day in the mountains. Pass around the campfire to share with friends.
Sounds like the perfect Colorado weekend, right? During a wintertime ski trip, I use Mandara's line of products in a similar way (but probably indoors). I also find it reassuring to know that this is a portable outdoor wellness routine, so that if my travels take me across state lines to destinations like Sedona or Bozeman, I'm still prepared to tackle any adventure.
Combined with an ample hydration plan and some active stretching, with the help of Mandara I'm able to maintain my focus on the fun. At the end of the day, I sleep easy knowing I'm providing my body the CBD-bolstered support it needs to continue to perform at its best. Even if I'm sleeping in a tent.